What Changes is Coronavirus Bringing to the E-commerce Industry?
The Impact of Coronavirus on E-commerce Companies
Last week, we discussed the impact and changes that coronavirus is bringing to the streaming industry. In today's blog, we are going to assess the implications on the e-commerce industry. There are a lot of complicated and intricate variables in play today that have impacted the continuity and success of e-commerce businesses within the coronavirus scenarios. The crisis has resulted in forced shutdowns of many brick and mortar businesses, and have accelerated the already ongoing digitization initiatives. 
Below we will delve into taking a closer look at these impacts.
Firstly, a definite banning of items that the government deems as 'non-essentials' has impacted the livelihood and sustainability of several sellers. It has created shortages of items available and has forced many smaller or niche e-com players to face supply-side shortages as well as the demand has stuttered to a stop due to uncertainties in the market. These niche players who specialize in fashion or luxury brands have suffered the most as a result. According to data from ChannelAdvisor, an e-commerce market analysis company, online sales growth for apparel the start of 2020, has plunged to zero from a growth rate of about 30% in the previous quarter, with the steepest drop coming at the beginning of March.
Major retailers have been forced to shift online, so this will change the dynamics of the industry in the near future. In the long term, the consumer lifestyle and behaviour change will give a boost to the e-commerce players. Stores have been closed, but the risks remain with lower consumer purchasing power as well as perceived consumer uncertainty over the direction. Overall, total retail traffic fell 9.1% last week, though, according to Morgan Stanley, and analysts don't believe that e-commerce will fully mitigate these declines. 
One problem that e-commerce players are facing is in sourcing supplies. Their supply-chain has been impacted, and important decisions have to be made about raw materials sourcing, data warehouse management, logistics and retailers face is sourcing supplies. Widespread factory closings have impacted as well as regulations around workforce at warehouse and factories have disrupted global supply chains, taking everything spiralling down.
Big e-commerce players such as Amazon, eBay might view this as an opportunity to garner even greater market share and stock up on the supply side to meet and manage the spike in consumer demand. It is therefore likely to benefit the more prominent players in the market who have the capital, equipment and the supply chain flexibility to meet the demand. Consumers today are willing to wait out to get their essential and required items delivered. Amazon can adjust to this new paradigm by hiring a considerable number of workers quickly for its distribution centres and delivery network. For example, over the past one month alone, Amazon has employed over 100,000 people currently, and are looking to hire for an additional 75,000 roles. While many companies are furloughing employees, this news is a welcome break. (

Note that these jobs are temporary work, and will likely not be sustained after the crisis subsides

.)
Increases in spending have been observed with online grocers, food delivery, meal kits, alcohol, home improvement, and general merchandise and e-commerce. Notable categories which have suffered from a decline include apparels, toys, arts and crafts, sporting goods, and book retailers. ( source: NYT)
Amazon has announced that they will postpone their 2020 Prime Day, which happens annually in mid-July. It is expected to put stress on the sellers' revenue which has partnered with Amazon.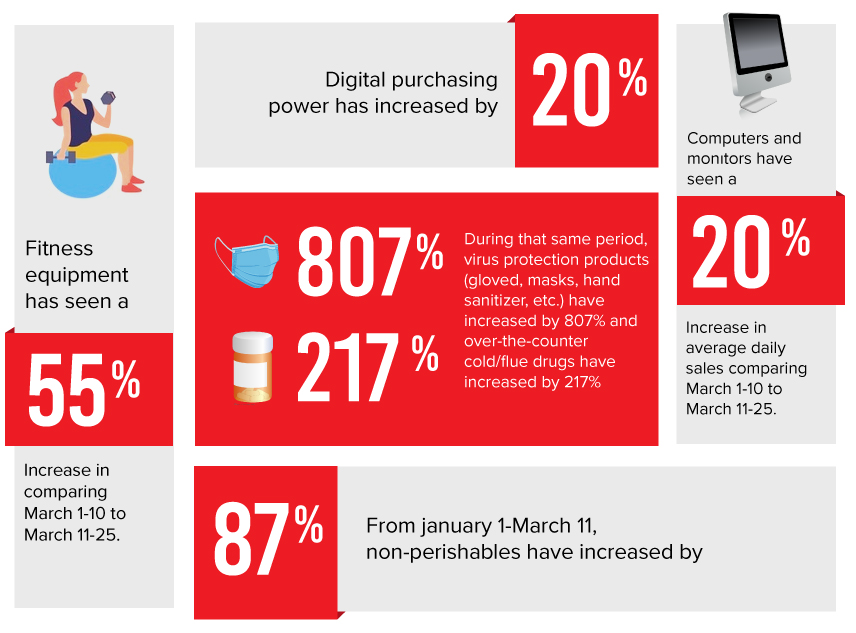 So, How Do E-commerce Players Prepare For The Future?
E-commerce players need to be well prepared for the changing paradigms. Unlike most other industries, which have experienced sharp declines in their bottom-line, the experience with e-commerce has been varied and mixed. The changing consumer habits and forced behavioural changes will positively impact the growth in the long run, if they can withstand the pressure in the short run.  
A critical challenge with e-commerce companies has been instances where registered sellers on their platforms are trying to illicitly profit off the coronavirus pandemic by presenting misleading or false claims. For example, just after the coronavirus sprang into public attention, many sellers started displaying products on Amazon as a cure/ mitigation for Coronavirus. Amazon responded quickly by banning the usage of specific keywords related to COVID-19. However, sellers have found turnarounds such as putting up misleading images, etc. E-commerce players need to put and implement better regulations to prevent sellers from profiting off the pandemic with such misleading claims and counterfeit products. The retailers and sellers that are trying to take advantage also need to understand that they will suffer brand erosion in the long run by indulging in such practices. 
Secondly, companies also need to better plan their inventory levels within an agile and connected manner with end-to-end insight across the entire value chain, from raw material procurement, production, to distribution and logistics. Customers have turned to these physical and digital stores but with significant changes in their buying pattern, triggering reactive measures for managing supply-demand, out-of-stocks and disruptions in promotional and pricing decisions. E-commerce companies need to tap into the sources of valuable data-points such as by bringing the omnichannel purchase data in one place to identify buying patterns
And by using data to substantiate the Inventory, shelf space or promotional decisions.
The consumer uncertainty is set to stay, and most sellers are predicting that the sales will drop further. There are many unknown variables right now, and many small e-commerce players will be facing business closure if the issue is not resolved soon. 
The popularity and success of Amazon had made the consumers used to quick delivery. This is going to change with customers willing to accommodate longer than expected delivery times. 
E-commerce players may start to look towards paid ad campaigns as a way to attract more users to their platforms. However, with reduced revenue, they may be willing to cut down on their ad spendings. 
Key Takeaways For The E-commerce Companies
Maintain transparency and communicate actively with your customers – Focus on building consumer trust. Keep your customers informed about product shortages and take active steps to manage supply chain risks to improve inventory levels. 
Invest in a CDN service – App downloads have increased over the past few months, and an increase in app usage is likely to continue. Now is the time to ensure that your website and app infrastructure is robust and able to handle the increasing spikes in traffic. A CDN investment will deliver the scalability to handle increased app usage as well as protection against DDoS attacks and other security vulnerabilities on your web app or website. A CDN also helps improve the health of your web server, from having to handle extra hits. 
At Medianova, we provide global CDN solutions in streaming, encoding, caching, micro caching, hybrid CDN, and website acceleration to ensure that your website performance is as desired even under peak traffic conditions. We have delivered and managed CDNs for leading enterprises and our state-of-art solutions are benchmarked against industry-leading quality parameters. Get in touch for more information.