Protect Your Web Application and APIs Against DDoS Attacks
Protect your Apps and APIs by mitigating DDoS attacks at our Anycast DNS based global edge network that is distributed among 50+ data centers and prevent even Tbps scale attacks.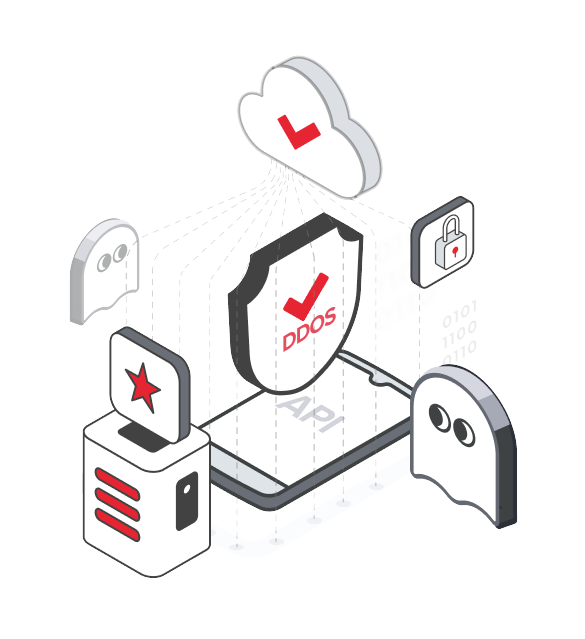 How DDoS Protection Works
How DDoS Protection Works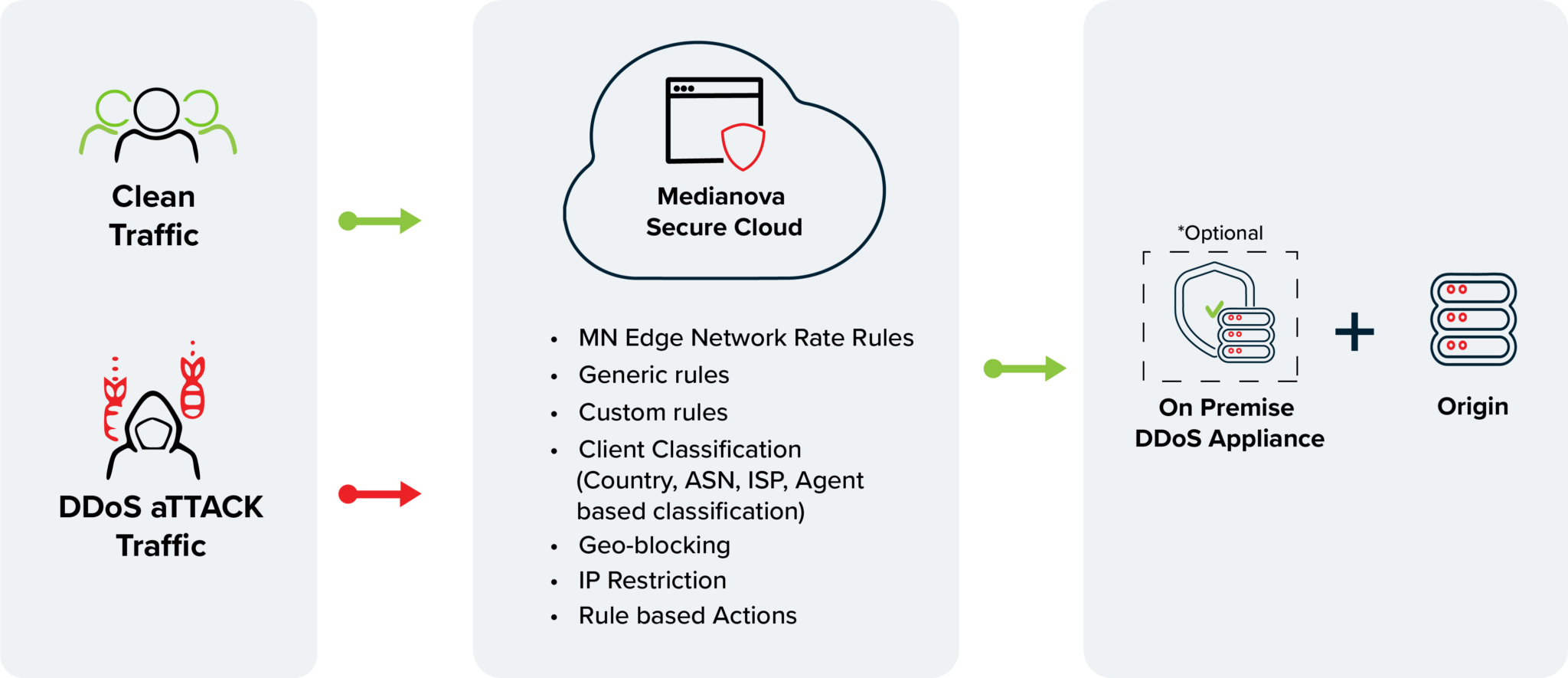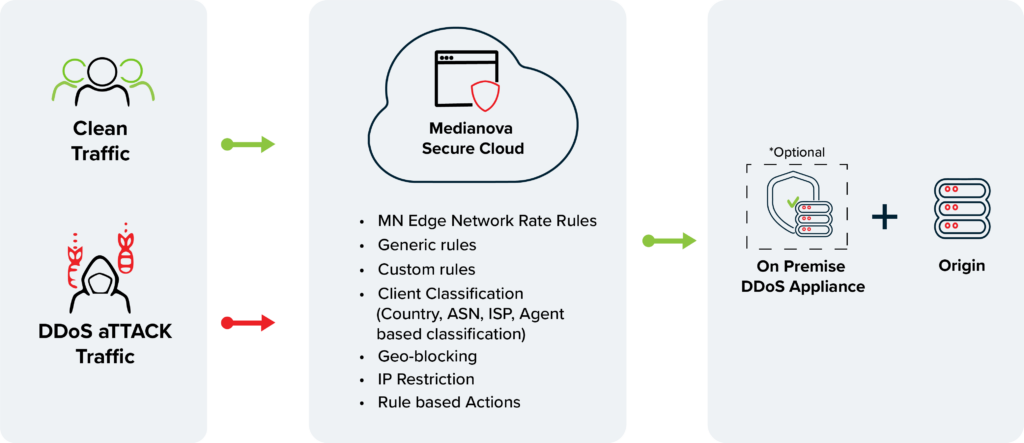 Types of Attacks We Protect You From
Types of Attacks We Protect You From
Layer 7 Attacks – DNS Query Floods, SlowLoris, HTTPS GET, HTTPS POST, and many more.
Layer 7 Attacks – DNS Query Floods, SlowLoris, HTTPS GET, HTTPS POST, and many more.
Anycast DNS Infrastructure
Protect your Apps and APIs by mitigating DDoS attacks at our Anycast DNS based global edge network that is distributed among 50+ data centers and prevent even Tbps scale attacks.
Origin Shield
Introduce an extra layer of security for your origin and limit its exposure to possible attacks, by offloading origin transactions to CDN.
Rate Limiting
Improve your Apps' and APIs' defense against DDoS attacks by blocking suspicious requests that exceed certain thresholds.
IP Protection
Protect and hide your origin IP by serving your content through CDN and reduce the risk of DDoS threats for your origin.
Reduced Costs
Secure your platforms without investing in expensive hardware appliances and lower your general costs with zero CAPEX.
Reduced Downtime
Mitigation and response tactics to minimize downtime.

Integrated Design
Integration with wide variety of services; WAF, Dynamic CDN, Anycast DNS and Load Balancing.
Geo-Blocking
Blocks malicious traffic from certain geography.
SSL/TLS
TLS 1.3 increases productivity by reducing lateness and increases cipher strength security.
High Performance
App & API Security without compromising performance.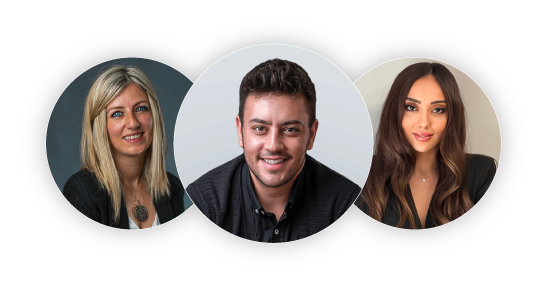 We know you are busy so we will be quick
Are you ready for a
10-min discovery call?
References
As digital technologies are getting increasingly adopted across the globe, vulnerabilities such as ransomware, phishing and whaling, and DDoS attacks due to cybersecurity breaches are also occupying regular headlines and such attacks are trending quarter by quarter.
A DDoS attack, also sometimes known as Distributed Network Attacks, sends multiple requests to the web resource that it attacks quickly. The result of this is that the web resource becomes overwhelmed and stops responding to legitimate requests.
DDoS attacks which stand for Distributed Denial of Service attacks have become more nefarious. They are wreaking havoc with critical computing infrastructure across the globe at an increasing frequency than ever before.
In recent times, the most high-profile cyberattack case was the attack on one of the world's largest petroleum pipeline operators in May 2021. Colonial Pipeline operates a massive network of pipelines, carrying gasoline and jet fuel from Texas to as far away as New York and other locations on the East Coast of the United States.
Hackers were able to gain access to the company's network using a virtual private network and accessing one of the ex-employee's passwords on the Dark Web. By using just a single compromised login ID, the hackers were able to compromise the computerized control systems.
This forced Colonial Pipeline to completely halt its services for the first time in 57 years. The colonial pipeline received a ransom demand. The hackers stole 100s of gigabytes of sensitive data and threatened to leak it if the company did not pay a ransom.
As a result of the company shutting down its operations temporarily, filling stations ran empty, which created long lines and panic buying. The governor of Georgia province had to declare a state of emergency. Ultimately, the Colonial Pipeline company gave in to the demand and paid the hackers 75 Bitcoins, amounting to USD 4.4 million.
This high-profile case highlights the extreme vulnerability that lurks within our digital infrastructures and the need for DDoS protection and DDoS mitigation. Such ransomware attacks, if utilized by terrorists and anti-government forces, have the potential to take governance and private operations, hostage. Consequently, they are becoming important policy points for governments across the globe.
In May, another DDoS attack brought down the servers of Belnet, an Internet Service Provider for public institutions in Belgium. As a result, the websites of 200 among the major research institutions, parliaments, etc. in the country went down.
Global internet usage has surged due to the coronavirus-induced pandemic and more and more company and government processes are getting digitized. Storing and accessing all this information over the internet will inadvertently expose the system to critical vulnerabilities.
The USA remains the country that witnesses the most attacks and these attacks and their severe economic impacts have rattled the American administration as well. Biden has pushed this as a priority within his administration and has made it clear that he will step up the efforts to enhance cybersecurity within the public and private spheres in the USA. Other countries are similarly following suit.
As more and more business operations are getting digitized, even a less sinister DDoS attack that creates website downtime can result in revenue loss, negative SEO impact, brand credibility, and user experience and engagement metrics. All of these can be very disastrous for your business that relies on digital 24*7.
According to Microsoft, the first half of 2021 itself saw a spike in DDoS attacks every day on their Azure DNS servers. Compared to 2020 Q4, the average daily number of attack mitigations in the first half of 2021 rose by 25 percent, while the average size of DDoS attacks increased by 30%.
Microsoft also reported that 74% of all attacks on its servers were 30 minutes or less, and around 90% lasted for less than 1 hour. North America accounts for the largest share of attacks (59%), followed by Europe (19%) and East Asia. Most DDoS attacks also originated from the USA (29%), followed by China (28%), and Russia ( 3%).
A few other trends are below (source: f5.com) :
Between January 2020 and March 2021, DDoS attacks witnessed an increase of 55%, and are becoming more complex

DDoS attacks are becoming more complex, as 54% of such attacks over the same time period utilized multiple attack vectors to paralyze networking servers
Digital companies continue to remain the most targeted and they alone received 27% of all such DDoS attacks.
Volumetric DDoS attacks were 73% of all incidents, while application DDoS accounted for 16% of all DDoS incidents. Volumetric DDoS attacks are designed in such a way that the network quickly gets flooded by colossal traffic generated by the attacker. This can consume all the available bandwidth and bring the servers down. This type of DDoS attack is the most common. The application DDoS attacks the origin server to consume its resources, making it strained and slow when responding to legitimate user requests.
Launching DDoS attacks today has become cheap and easy, and therefore every industry needs to have the necessary guardrails in place in order to deal with these threats effectively. Compiled findings from q2 show that a CDN or Content Delivery Network can often act as a helpful framework to protect against and mitigate damage from a DDoS attack.