Medianova is now certified by ISO Standards!
Medianova has registered ISO 9001 (Quality Management), ISO 10002 (Customer Satisfaction Management), ISO 27001 (Information Security) certificates for the compliance of its services and products with the international standards.
We use smart SaaS platforms for Quality Management
Here are some of the SaaS platforms we use within the scope of the Quality Management System. HR management (from the most important aspects of quality management) is carried out systematically via KolayIK, >in many topics such as training, HR workflows, and HR document sharing.  Jira is used for daily workflows such as software development and content creation workflows. The codes are versioned with Git and the testing automation is done with Jenkins. Platform automation is managed by Ansible and thus job quality management is carried out with great success.
The Manage Engine Help Desk is used in the Customer Satisfaction Management System. Thus, customers' requests and complaints are monitored instantly with this system. That's how we keep our customer satisfaction at an average first response speed of 4 minutes, with "24/7 Fanatic Support" strategy awareness.
With the standardization of Quality Management, Customer Satisfaction, and Information Security management systems, our company has realized an important pillar of our mission to reach its global targets.
So what are these management systems or What is ISO?
TS EN ISO 9001: 2015 – Quality Management System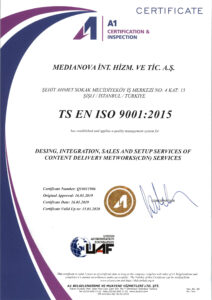 The competition between companies increases rapidly with the development of technology. This situation pushes companies into an economic race. In this race, the achievement will be possible by providing the right product and service. For this, a Quality Management Mechanism should be applied to all processes from production to sales. ISO 9001 Quality Management System Standards has become the most extensive International Standards in the field. Medianova offers its services in accordance with an international quality management system. Our company certifies the continuity of product and service quality with ISO 9001: 2000 Quality Management System certificate.
ISO 10002: 2014- Customer Satisfaction Management System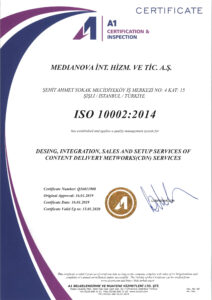 Nowadays, the world where internet technologies are becoming widespread, customer satisfaction has become an important issue for companies producing these technologies. The value and protection of the companies trademark depend on the satisfaction of the existing customers and the gain of new customers.
ISO 10002 (Customer Satisfaction Management System) provides the follow-up of commitments to improve service quality by fulfilling customer demands and complaints. Medianova has certified these commitments and international standards with ISO 10002. Thus, as in the past, customer satisfaction will be guaranteed in the future.
Medianova responds to customer demands via the "Fanatic Support" strategy within 4 minutes average over the last 12 months.
TS EN ISO 27001: 2013 – Information Security Management System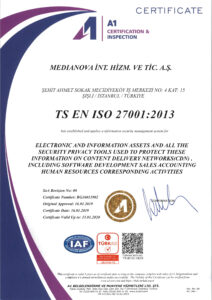 Information can be stored in papers, human memory, or electronic environments. It should provide integrity, confidentiality, and availability of Information Security. Similarly, Continuity and conservation of information carry the same importance for companies as information does for them.
Nowadays, internal information, documents, and videos should be used and protected in a systematic and secure way.
With Medianova's Enterprise Video platform, video and similar files of critical institutions (e.g., banks, army), where information security is critical, are stored with the peace of mind of Medianova's ISO 27001.
ISO 27001 Information Security Management System is a management system that standardizes the management of users, information systems and processes used to secure information. The System is designed to protect the information and provide confidence.
Medianova was able to obtain the ISO 27001 certificate which is provided by independent institutions. By this way, we promise to keep our customers' data protected.
Please send an e-mail to support@medianova.com or call our support team on +90 212 275 5456 for more information about our standards.