Coronavirus and OTT: What Is The Current Situation?
The Repercussions of Coronavirus on OTT Industry
The OTT industry has significantly transformed how people have been used to consuming media content. In the 2000s, the explosion of the high-end internet infrastructure and mobile connectivity resulted in an incredible rise in popularity of the OTT platforms which bypass broadcasting cables and satellite networks, to deliver content directly to the users through online streaming, hence, cord-cutting. In fact, according to Deloitte Insights survey 2020, more people (68%) now have at least one OTT subscription, as compared to those who have a pay-TV subscription (65%) 
Coronavirus Impact on OTT Platforms
In our last blog, we dissected the impact that the unforeseen emergence of the coronavirus pandemic and the subsequent government ordered lockdowns had on the OTT industry. In the initial phase of the outbreak, there was immense uncertainty about when things will get back to normal. The impact of a slowing economy and fears of a looming recession meant that consumers were expected to cut down on discretionary spending and save for the rainy days ahead.
The suspension of major sports leagues around the globe was another massive blow since sports advertisements accounted for a significant share of the revenue for these OTT platforms. Apart from advertisement dollars, sports subscription was also a major pull for sports fans. However, sitting in October, most major leagues have returned – to the sigh of relief of both the sports fans as well as the OTT service providers. 
Consumer spending has also shown a positive shift towards streaming services. Three in four Indian users would prefer to watch a movie on various over-the-top (OTT) platforms in the social distancing times compared to just one in four who would still love to go to a cinema hall, a survey by app distribution service MoMagic revealed in July. Businesses are trying to ascertain the overall impact and how to turn the opportunities into profits and increased market share. 
Research dive has recently published a comprehensive report, in which they discuss the impact of the current coronavirus crisis on the OTT industry. A startling statistic that stands out is that, while the Compound annual growth rate(CAGR) for OTT industry before the pandemic was around 16%, the CAGR post-pandemic is expected to be over 19%. This jump in the growth machine will propel the industry to a whopping $438.5 billion market by 2026. Before the pandemic hit, the same growth had been expected to be shy of $400 billion by 2026. Hence, Covid19 has undoubtedly been a positive influence on the OTT industry. Stay at home users have been watching more streaming content than ever before and the traffic has increased.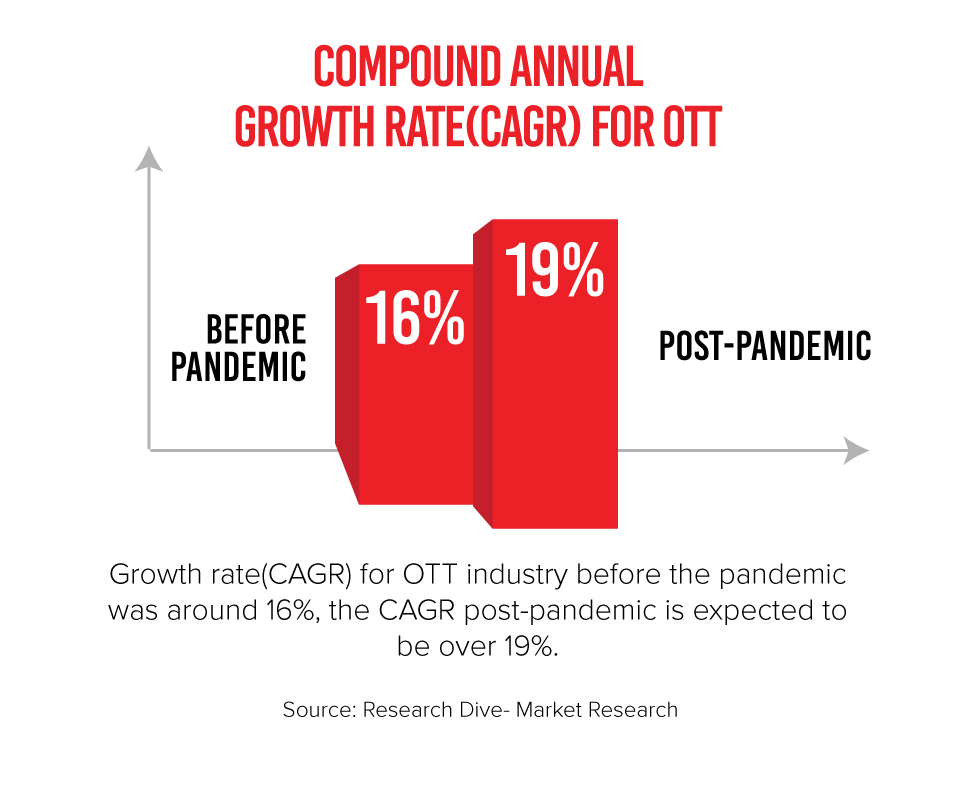 The demand for OTT services had been already surging, but with coronavirus, people have stopped going to the malls and movie theatres, and OTT platforms have filled this void by releasing new movies and TV shows on the platform. Initially, there were concerns, since because of the pandemic induced lockdowns in almost all major countries, many productions had stalled, while scheduled releases were canceled. However, now that easing has been allowed with regulations, the shows have resumed shooting. While trepidation of going to malls and cinema theatres remain, OTT platforms have become the go-to option for production houses. 
At the same time, the viewership and the average time logged in has increased. According to OpenX, the average OTT user streams more than 2 hours of content every day, and especially the millennials and GenZers are more likely (2 times more) than the earlier baby boomers to binge-watch content – making them a super demographic for the OTT providers. 
Trends such as customized content delivery and personalization that encourages user participation are expected to further fuel the growth and expansion of this segment. Major players are innovating to provide a complete package to the users. Besides, technologies such as Virtual Reality and Augmented Reality are offering enhanced user experience for users while consuming content or playing online games. With over 300 streaming service providers to choose from on an average, users have been spoiled to expect TV-like, and near-flawless experience while watching the streaming content. 
More people are subscribing to the OTT platforms during this lockdown. Not only this, but governments of many countries are encouraging investments into the supporting infrastructure. The OTT is seen as a channel to push educational content, communicate government policies as well as give a boost to local service providers and product companies that use the OTT platform to connect with their consumers.
However, concerns related to the quality of infrastructure, especially in developing countries, remain a bottleneck to growth. The infrastructure associated shortcomings also create user experience challenges such as buffers, lags, etc. 
So, what is the verdict?
The momentum is set to remain, and growth will continue. OTT providers must continue to develop their expertise, and build the required capabilities. This means investing in the necessary infrastructure to ensure the optimal user experience – regardless of the delivery model ( SVOD, TVOD, AVOD and other). Especially with so much demand for streaming content, low-cost subscription models are free to use, but ad-supported delivery models will be expected to register even higher growth. User experience will be crucial, and at the same time, users facing economic uncertainty are likely to remain more price-conscious than ever before. We already see significant shifts – major motion pictures are now being released on streaming services. 
 Hence, CDN becomes important. 
When the user accesses the website, the DNS resolves the request and sends it to the webserver where the content is stored. All is well until now. The challenge occurs when your server is located in physically distant geography ( say Bangkok) from where your user is ( say Munich). In this case, the request and response will have to traverse vast geographical distances – which will unavoidably add latency to the whole process – leading to suboptimal user experience. 
By caching the website content in multiple places ( called PoPs), a CDN will deliver the response from the cache server located closest to the user – hence eliminating any latency irrespective of where the user is trying to access your website. With OTT companies, which deliver streaming video files ( massive file size) to a wide scale of audiences, having a CDN can often be a gamechanger. A CDN service also utilizes superior technology to optimize storage and fast response resolution. 
With CDN, OTT companies can also scale better and quickly – if the traffic or load increases, then the server may not be primed to support this extra stress. The company, in that case, will have to move quickly and purchase additional configurations, or in the worst-case scenario have their server crash altogether. 
With a CDN, which already has a network of servers, you are immune to such problems. So, as you anticipate higher traffic – say during a popular movie release, popular sports games, or around the holiday season, you can take advantage of this flexibility to scale up. 
Then as you move back into the lean phase, with average traffic – then you can easily and quickly scale down. Doing so is often considerably more cost-effective and convenient for companies than procuring extra servers, then increased maintenance costs on top of it and higher chances of underutilization during the lean phase. 
Major OTT providers have already invested a great deal into an effective CDN infrastructure – this trend has received a further boost as the impact from Covid19 shakes up businesses worldwide. Many major motion pictures are being released on OTT, and they are receiving a fair response from users as well – leading to this experiment being labeled a hit. 
At Medianova, we bring extensive experience in implementing reliable and state-of-the-art CDN solutions for streaming, encoding, caching, micro-caching, hybrid CDN, OTT, and website acceleration. Get in touch with us, to discover valuable synergies that will power your platform success in today's uncertain and pandemic-affected world.