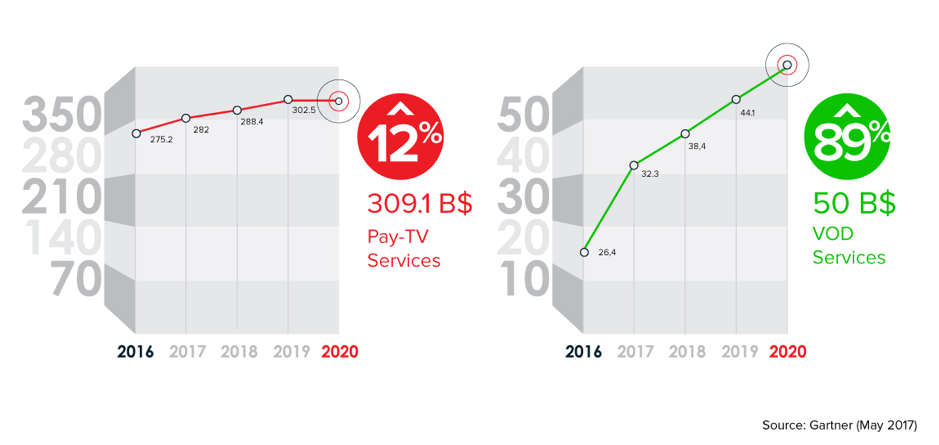 What is OTT and why is it a rising trend?
In the absence of the Internet, people were usually accessing information from television, radio, and newspapers. The series, movies, and documentaries were mostly watched through television. As the Internet became widespread in our homes and phones over time, people started enjoying much faster and easier access to information.
Various platforms such as Facebook, Twitter, Vimeo have been developed to provide different contents to the end users.
In recent years, the idea of broadcasting on the internet has emerged as an alternative service to traditional television broadcasting. This service, known as OTT has attracted the interest of users with the principle of "anytime, anywhere, any device". Millions of users use these platforms today.
What is OTT?
OTT is the Subscription-Based service model that enables the service providers to deliver Video on Demand(VoD) content to the end user on the Internet without the need of Pay TV operators. In these platforms, content such as video, movie, series, and documentary are available online and recorded offline.
Market Situation of OTT
The number of subscribers of OTT service providers such as Starz, Netflix, Blu TV has started to increase with the interest in OTT. It is foreseen that the orientation towards OTT will continue to increase day by day and will come to a more important point. The market estimation, together with the number of customers using the OTT service, is outlined in the report submitted by Gartner.  According to Gartner's report in 2017, the market situation for Pay-TV and OTT service providers between 2016-2020 is shown in two separate graphs.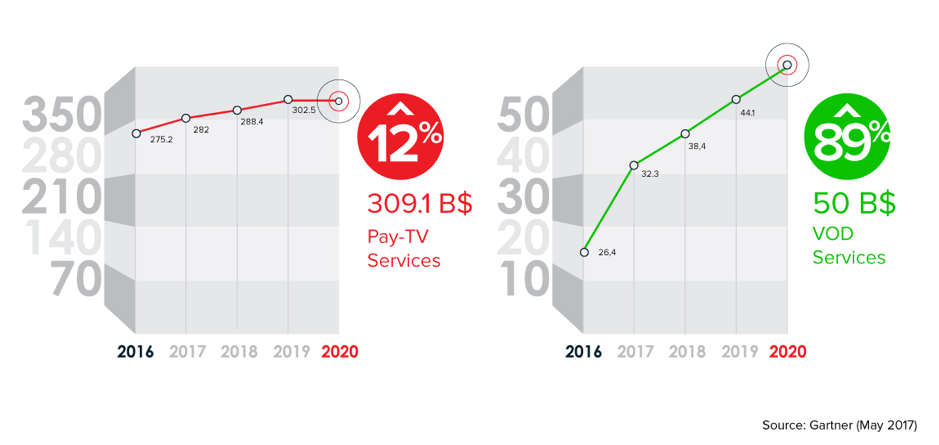 Advantages of OTT
1) It provides high-quality content to the user with the "Content is the king" policy.
2) Thanks to "Anytime, Anywhere, Any Device" principle, OTT service allows users to access the content in any case.
3) Allows users to download content in advance on their devices, and provides tracking opportunities without an Internet connection.
OTT Service
OTT Service Providers attach importance to 3 issues while developing services. These are:
1) High-Quality Content
2) Good User Experience
3) Low delivery Costs
In order to solve the basic issues mentioned above, companies need to strengthen their software and hardware infrastructures. For this matter, they need to use: 
1) ON-PREM method
This method, which we call on-premise, was created to improve the quality of OTTs by establishing their infrastructure with their own servers and software. Technically this is possible. However, setting up or renting devices at their service points and monitoring these devices means serious overtime and personnel costs.  For OTT providers it is critical to have a predictable cost of delivery service. Since these providers work on a subscription-based model, their revenues are certain. But on-prem will not be efficient for a predictable cost of delivery service.
2) More Powerful OTT with CDN Architecture
CDN is a cloud computing platform that replicates (caches), optimizes files such as video, image, music, codes etc. and enables the end user to connect with every device quickly.
For platforms with many contents, such as OTT, it is important to cache these contents at different points. The higher the content is cached, the faster and better quality is delivered to the end user.
OTT service providers use CDN architecture to deliver more content to end users with lower latencies. The main goal of OTT is to keep the User Experience flawless by avoiding delays in content transmission. Thanks to their distributed architecture, CDNs cache the OTT contents at the closest points to the end users. Thus, when a user makes a request to content, the cached content from the closest CDN point will be sent instead of the OTT origin server respond.
Content distribution costs of OTTs using CDN are predictable.  In this way, OTTs will get rid of many unpredictable cost calculations such as maintenance, repair, IT team, hardware and software supply for content distribution.
So how can Medianova help you improve your OTT platform? 
Medianova is a CDN service provider that responds to billions of requests of the end users per day in Europe, the Middle East, Asia, America, and Africa. Medianova offers one of the best service quality in the regions where it provides services according to independent measurement companies such as Cedexis.
The company offers streaming services to many OTT companies such as BluTV and StarzPlay which have millions of users.
These companies chose to work with Medianova for the following reasons: 
With over 80% content cache ratio, it delivers the content of the OTT companies to the end users quickly.

Regardless of the network traffic and the different parameters, it is only charged per TB. This raises a predictable service cost.

According to Cedexis data, it ranks high in the regions where it serves in terms of performance.

Due to its flexible architecture, it is able to expand its architecture by rapidly deploying new servers in new regions.
Medianova OTT is a streaming service provider looking for positive references from its customers and 24/7 fanatic support services.
 You can test the difference of Medianova with the free trial version.
Please send an e-mail to support@medianova.com or call our support team on +90 212 275 5456 for more information about our standards.