Black Friday and Cyber Monday 2020- Here Is How It Went
Black Friday and Cyber Monday 2020- Here Is How It Went
2020 has been a very unforgettable year for retail brands and retail outlets. The coronavirus pandemic not only disrupted shopper footfalls leading to the shutting down of numerous brick and mortar retail businesses the world over, but the income loss due to job losses and retractions in the economy led to falling revenue for online e-commerce players as well. 
Because the year 2020 turned out to be such a dark year, with almost all significant economies contracting by a considerable margin, many analysts and experts were predicting that Black Friday 2020 will turn out to be hugely underwhelming too, in line with the shopping behavior that was seen at the peak of the pandemic. 
But the shopping behavior slowly started showing signs of improvements as the year progressed and Black Friday and Cyber Monday 2020 have turned out to be superhit once again. Brands have seen impressive turnovers, and they have capitalized on this by giving extended sales discounts and extending the shopping season.  
Expectedly, in-store sales took a hit because of the coronavirus induced restrictions. In-store sales have been observed to have dipped by around 52% over the last year. A major beneficiary of this was online sales, which grew tremendously. 
Online sales on Black Friday initially made it the second biggest day for online sales ever, behind only last year's Cyber Monday sales volumes. Online sales grew by 21.6 % to around 9 bn USD on Black Friday, which is a highly impressive number. This was then majestically beaten by Cyber Monday 2020 sales, which clocked $10.84 billion – biggest day for US e-commerce ever. (source: Adobe Analytics). The total sales for the season exceeded $ 100 billion, a full nine days earlier than it did in 2019.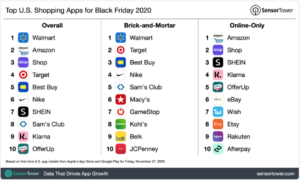 According to Sensor Tower Store Intelligence, around 2.8n million shopping apps were downloaded on a single day – Black Friday 2020. The two biggest – Walmart shopping app was downloaded 1,31,000 times and the Amazon Shopping app was downloaded 1,06,000 times. Black Friday 2020 also saw a growth in Buy Now, Pay Later apps as consumers were seeking budget-friendly options. 
At the same time, total app installs in the US across the App Store and Google Play Store, between November 1 and November 29, reached 59.2 million, increasing by 15% from the same period in 2019. Shopify grew by around 175%, and it recorded 1.2 bn USD in sales numbers alone. Shopify has released specific numbers to help us better gauge consumer behavior on Black Friday. The average cart checkout volume, globally, was around $91, growing by approximately 11% over the last year. Mobile devices continued to drive the majority of online shopping, with 67% of all sales recorded via mobile vs 33% recorded via desktop. 
Online stores, such as Walmart and Target, invested in making in-store shopping stress free and convenient for shoppers. And this has been a welcome step from the retailers. However, the experience and trend indeed point out to the future, where in-store sales will continue to go down, and online will continue to gain a larger share of the pie, even when the effects of the pandemic have subsided. Even those segments, where people prefer to inspect their goods physically – such as furniture – has seen an impressive transition to online channels. It is clear that the Covid19 pandemic has only accelerated the shift to digital channels and highly data-driven tactics. This has been shown by Mobile Trends 2020 report, which shows that in the US, consumers downloaded apps of brick and mortar stores increased by 27% YoY, in the first quarter of 2020, and the trend has continued throughout the year
For retail players, the objective is simple – to become more and more expert at omnichannel sales. That means providing a superior experience to the consumers at each touchpoint – wherever the customer wants to engage with the brand. Digital channels will continue to drive the majority of the sales, but customers will still prefer and trust those brands where they can physically go and experience merchandise for themselves. 
Many brands have innovated, by extending their Black Friday and Cyber Monday offers to last for a longer duration – basically extending to the whole of the month around Black Friday. This has proven to be an ingenious strategy. 
For brands going into 2021, the lesson is clear. Investing in expanding the digital presence and ensuring that the customers are getting a seamless and streamlined experience across the desktop and mobile devices are going to be key differentiators. 
Especially, as brands today are striving to increase their global footprint, by targeting new geographies, demographics and user groups, it is essential to ensure that the same level of experience is scaled to meet the user expectations in these new geographies as well. A bad shopping user experience will definitely lose your market share. 
Content Delivery Networks has emerged as very useful solutions for e-commerce businesses.  They provide high levels of customer experiences, with benefits such as increased availability, improved scalability to meet peak demands in traffic, low buffering and reduced site load times. 
At Medianova, we bring years of experience and expertise working with leading e-commerce players to deliver turnkey CDN solutions that will power your business. We use top-notch and cutting-edge technologies in streaming, encoding, caching, micro caching, hybrid CDN, and website acceleration.